Meet Dr. Anjuli Borden
A Passion for Her Patients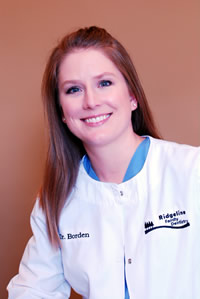 Growing up in Parker, Colorado, Dr. Borden always had a great time going to the dentist. Her good experiences seemed to be overshadowed by the fact that so many other people weren't having a similar experience. As a result, she has seen many children grow into adults with dental phobias.
At the age of 18, she began her career in dentistry with a hope of helping her own patients have wonderful experiences one day.
Now that she's a dentist herself, Dr. Borden enjoys erasing these fears from adults and children. She prides herself on helping dental fear become a thing of the past.
Professional Affiliations
The Art and Science of Dentistry
After receiving her undergraduate degree from the University of Colorado Denver, Dr. Borden went on to graduate from the University of Colorado School of Dental Medicine.
She has been seeing patients since 2010. In school, she was very interested in restorative dentistry and periodontics; she was even an active member of a periodontal study club.
Dr. Borden enjoys the aspects of art and science that are needed in dental care, as well as seeing the change in people's opinions about their experience in the dental office. It's not uncommon for her patients to look back and tell her "that's the best dental visit I've had in my life."
As she puts it, "It's always nice to see the change in people's opinions about their experience in the dental office."
Each year she takes several continuing education courses as well as attends the annual Rocky Mountain Dental Convention. She is also a member of a local Colorado Springs study club.
EXPLORE OUR SERVICES »
Outside of the Practice
Outside of Ridgeline Family Dentistry, Dr. Borden and her husband Mike enjoy cooking, eating healthy and watching a good movie with their two cats PJ and Monti as well as their dog, Sammy. They also enjoy spending time outside hiking, camping and skiing.
Get the best dental experience of your life with the dentist who's committed to making your experience great! Contact us today to schedule an appointment.

Dr. Anjuli Borden | (719) 344-8616