Fixed Dental Bridges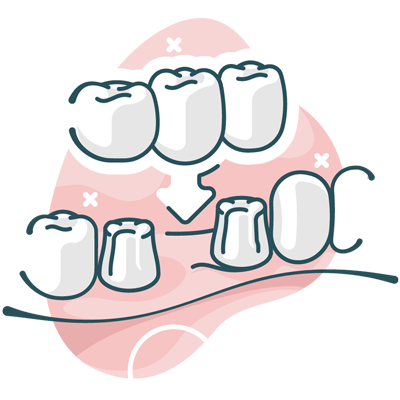 A Beautiful Way to Replace Missing Teeth
A dental bridge is used to replace a tooth that is missing or has been extracted. They're ideal for our patients who may not be a candidate for a dental implant, or don't want to wear a partial.
What Is a Dental Bridge?
Bridges are restorations that have a false porcelain tooth suspended between two dental crowns. They are anchored onto the teeth next to the one that is missing. When properly cared for, a dental bridge can last several years.
We use extremely strong porcelain materials for all of our dental bridges. Each one is made at a locally owned dental lab that we trust for their reputation and quality of services.
Getting a bridge is similar to what you'll experience if you need a dental crown. The treatment is separated into two visits. At the first, we'll numb the supporting teeth and adjust their shape so that a restoration can fit over them without feeling bulky. An impression is taken for our lab to use during the design process. You'll need to wear a temporary for about two weeks.
When your permanent bridge is ready, you'll return to our office to have it tried in, cemented and adjusted as necessary. With proper care, your bridge can last around a decade.
Your bridge needs to be cleaned underneath and around the supporting teeth each day. A floss threader, tufted floss or water flosser are appropriate to have on hand. Focus on areas nearest the gums, where biofilm tends to collect.
Schedule a regular cleaning at least twice per month to have calcified buildup removed and maintain the integrity of your supporting teeth.
Bridges don't just fill in the gap caused by missing teeth, they also help to keep your overall bite in alignment. Since open spaces don't provide support to neighbouring (and opposing) teeth, they often start to drift out of place when a tooth is extracted. This chain reaction can affect tooth after tooth, requiring orthodontic treatment in the future.
Get Your Options
If you are missing a tooth or trying to decide how to replace one that will be removed, a bridge may be your best solution. Schedule a consultation with our dentists by calling the office today to find out more.
CONTACT US »

Bridges Northgate, Black Forest, Briargate CO | (719) 344-8616