Dental Crowns
Comprehensive Restorations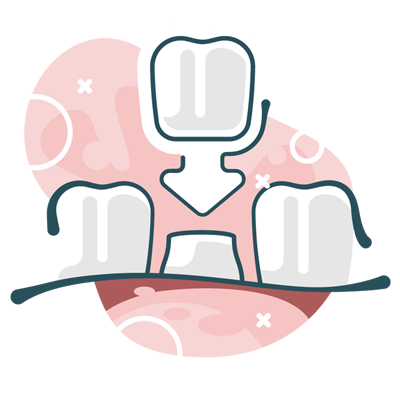 All of our dental crowns are made from extremely durable porcelain materials. Our dentists use two types of porcelain crowns: an ultra-strong porcelain used on posterior teeth, and a more cosmetic but strong porcelain for anterior teeth.
Certain types of crowns can bond directly to the underlying tooth, minimizing leakage that can occur around the crown margin.
When Is a Crown Necessary?
Crowns are used to protect teeth that are breaking down. We typically suggest them in circumstances such as:
Large, aging fillings
Cracked teeth
Teeth treated with a root canal
Our crown treatments take two appointments. The first involves a preparation visit where your dentist shapes the tooth and takes an impression. We work with a trusted dental lab right here in town that makes the permanent crown from this impression.
In two weeks, you will return to our office for us to permanently bond the crown into place. Most crown treatments are at least partially covered by dental insurance.
Your final crown will blend in with your smile, since it is made to match your surrounding teeth.
Most of our custom dental crowns are made of ceramic or porcelain, making them extremely durable when it comes to withstanding everyday wear. Their handcrafted design takes shape, texture and various hues into consideration, allowing your restoration to blend in with the adjacent teeth.
Although crowns aren't considered a cosmetic service, they can help to accent the appearance of your smile as a whole. If you don't qualify for veneers because of extensive damage, decay or tooth wear, then a restorative crown can offer even better results.
While crowns cover your tooth, bacteria can collect around their margins and potentially cause new decay or a gum infection. To prevent unwanted side-effects, it's important to floss around your crown daily. A well-fitting crown will not come off when flossed properly.
Wrap the floss snuggly against your tooth and slide it up and down just under the edges of your gums. Repeat the process on both sides.
If flossing is difficult, consider investing in a water flosser.
Brush your crown the same as any other tooth; angle the bristles towards your gums, stimulating the gumlines and removing plaque buildup in those areas.

Dental Crowns Northgate, Black Forest, Briargate CO | (719) 344-8616